Weather
Sep. 22th Thu; Temp.; 77F, Humid.; 58% 9mph wids, Sunny
Who is online?
In total there is
1
user online :: 0 Registered, 0 Hidden and 1 Guest
None
Most users ever online was
6
on Sun Sep 11, 2016 7:18 pm

★Basics★
~Sasha~
~Nonbinary~
~Prefers females~
~Smooth-faced Pyrenean Shepherd mutt~
★History★
Sasha had been born on a farm in a small litter with two other pups, along with having another sibling a bit under a year older than her. Her life had been relatively uneventful for about a year, but had changed dramatically when one of her siblings was attacked by a wild wolfdog. It was at this point that she learned from her mother that the wolfdog was her older sister's father. Grevious, intrigued, and most of all furious, she decided to escape and see what life was like away from the farm. For about half a year, she explored the wild, learning how to survive by taking down prey small enough for her and avoiding confrontation with packs. Occasionally, her brother, Micah, visits her outside the farm to tell her of happenings there. She is currently looking for a pack that would accept her, despite her small size and dog heritage.
★Appearance★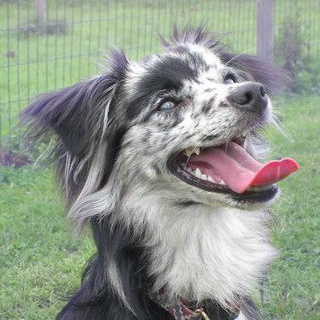 Their fur is pale silver with freckles and patches of ash all over their body. They also have white markings on their undersides, including their belly, their paws, and part of their tail. They have a faded pink collar around their neck, and the skin beneath it is chafed and almost hairless from being on so long. Their fur is wavy and scruffy. Their ears are large and folded, and their tail has a slight sickle like curve to it. Their build is thin and wiry with small paws and narrow legs. They're pretty small, their shoulders reaching only about 20 inches, and approximately 20 pounds. They have icy grey eyes.
★Traits★
Shy, friendly, gentle, doting, a hopeless romantic. She tends to have short crushes that quickly fade, or at least in most cases. When threatened, she starts yapping a lot and running around.
★Relationships★
~Parents~
Mother: Avery - A fairly large dog for its breed and sex. Its coat is pitch with white markings, and textured curly and soft. It is well muscled and swift.
Father: Valentine- A dog of average size. His coat is wiry and matted, and coloured ivory with hints of silver. He is a pretty sickly dog, and avoids too much exercise. He is not a purebred Pyrenean shepherd; his lineage is relatively unknown.
Siblings~
Micah- A small male dog with fawn and white fur. They are docile and friendly.
Blitz- A large, aggressive female. She is brawny, fierce, and overprotective. She jealously guards her family, her owners, and their property. She is quarter wolf, half Pyrenean shepherd, and a quarter border collie.
Friends~TBA
Mate~ None currently.
Crush~ None currently.
Pups~ None currently.
Last edited by Sasha on Sun Sep 18, 2016 11:04 pm; edited 1 time in total



Posts

: 2


Join date

: 2016-09-18



★Basics★
~Sasha~
~Sex is female; gender is nonbinary~
~She/her or they/them pronouns~
~She has a preference for females, but is open to all genders~
~Smooth-faced Pyrenean Shepherd mutt~
For that, it should just e
Name
gender
Gender(s) prefered
breed(s) 
Thank you! Keep it short and sweet for that part. Please put traits after your looks
And for looks, please follow the list and keep it as short as you can using the list. See more bios for examples
Admin




Posts

: 34


Join date

: 2016-09-01


Location

: Some Place In America






Posts

: 2


Join date

: 2016-09-18




---
Permissions in this forum:
You
cannot
reply to topics in this forum